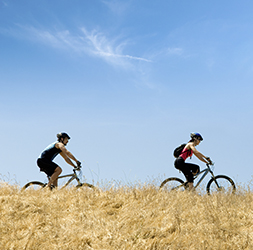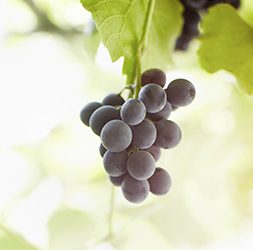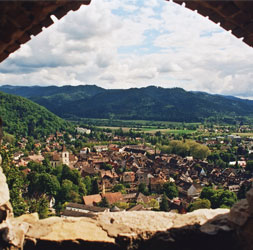 WHY STAUFEN?
There is charm and variety in Germany's warmest area. You feel and smell the South of Europe already – be it in your glass of wine, on your plate or just mixing with the locals.
The town of Staufen (http://www.staufen.de) is visible from far: a mountain full of grapes, ruins of of a medieval castle, Black Forest in the background on the one side and the fertile Rhine-valley on the other.
Culture abound: COLMAR (across the border, in France) is world-famous and so are FREIBURG (fabulous dome) and STRASBOURG (location of Europe's Parliament). BASEL (across the other border, just into Switzerland) is equally charming and known for its abundance of art.
Hiking in Southern Black Forest is ever so popular. Highest elevations close to 5000 ft., well-marked trails, good food.
Wellness: Three (3!) spas are within 30 min from Staufen! Badenweiler, Bad Krozingen and Bad Bellingen. You guessed right: "Bad" means "Spa" in German: NATURAL hot springs have inspired the Romans already!
Sport? Sure: Golfing is possible – and so is cycling, motor-cycling, fishing, flying, canoeing, horse-riding, Lama-trekking, skiing – and much more.
Really hot stuff: 100wine-producers (predominantly white wine) within 30 min! And where good wine is grown the food cannot lag behind! Just 10 min from Staufen, in Sulzburg, Germany's ace-female-Chef, Douce Steiner, has her restaurant "Zum Hirschen" (stag). But - without starting your car – there are fine places in medieval Staufen with it's cobble stone pedestrian walkways to choose from: no trouble with the law after some glasses of wine!
STAUFEN – what sticks out most: the charm of the town is not a "sleepy" one – it's vibrating! Locals know how to organize festivities – be it vintage cars, fairy-tales, classic music events, umtata-brass-or wine festivals!
When are you joining in?