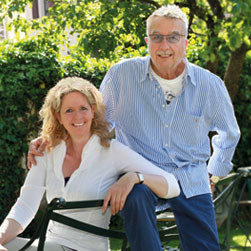 A FEW WORDS ON US
There are 3 quite different apartments available: before we bought the place there were 5. Now we live in one and the other serves as Volker's office.
Tina works fulltime and looks into reservations and bookkeeping in the evening. Both of us travelled a fair share around the globe and speak reasonably FRENCH, SPANISH, PORTUGUESE / BRASILEIRO apart from ENGLISH.
Today, we use the bicycles more than touring Europe with motor-cycles like we did some years ago. To take our canoes down the Rhine-river's old bed (no motor-boats, just nature) is a delight time and time again.
Volker is on the final lap of his career as a self-employed civil-aviation man (jet engines) and loves to start a camp-fire in our little garden behind the apartments.
To receive guests from all over the world is most gratifying when one had the luck to see some of this planet!
Welcome,
Martina & Volker